Interview Environment Artist - Pierre Halais
Would you like to know more about the profession of E

nvironment Artist at Kylotonn? Pierre Halais tells you more.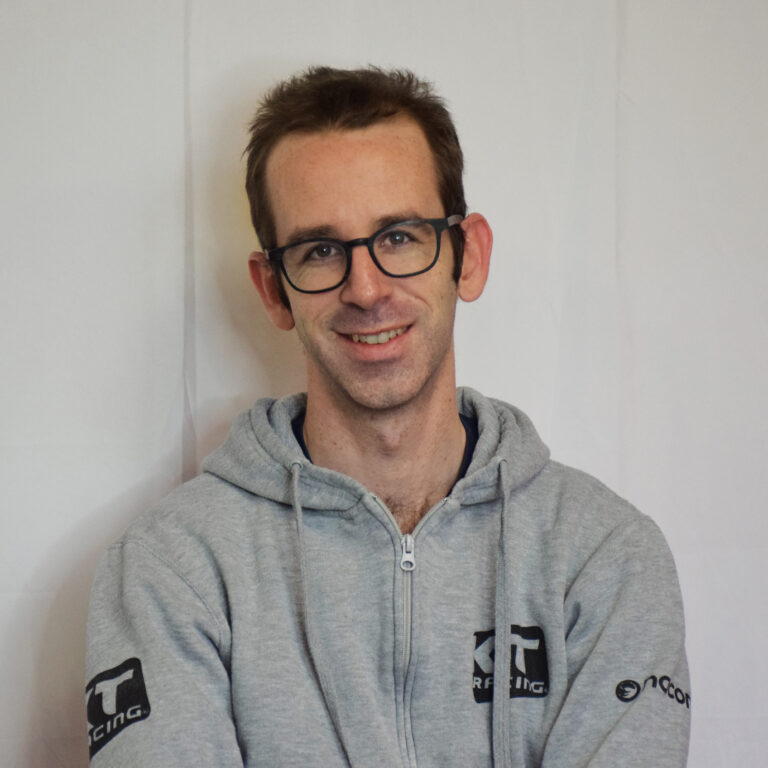 How would you define the job of Environment Artist at KT? Can you tell us more about your role at Kylotonn?
I'm a senior environment artist, which means that as part of the environment artist team I'm in charge of creating and designing the different environments for Kylotonn productions, under the responsibility of a lead and the artistic director.
It's a role in 'partnership' with the Level Designers and programmers, which generally involves creating the game environments (Editor's note: more information in the interview with Laure, Level designer at Kylotonn!).
The Level Designers are in charge of positioning the roads, everything related to gameplay and level design...
The programmers are there to help us by developing tools or improving the game engine.
The job of an environment artist is to create this universe, which must remain coherent while respecting the world in which the player will evolve. It's our responsibility to represent Hong Kong as faithfully as possible.

Are you allowed to take some liberties? For example, deciding that a certain object will be a flower pot or a box, is that your prerogative? Are you free to choose?
Yes, we're making a true-to-life adaptation, but we're not 100% accurate. I mean, in some places we really try to be as faithful as possible. But in other places, we represent them in the way that suits us best, depending on what assets we have available (Editor's note: Assets are the computer resources that make up video games, such as text, images, video and sound),what we can do with our technology... and so on.
Who creates the assets you're talking about? Is it you too?
Yes, we create them, we model them, we texture them, we make them destructible if necessary... For example, I'm responsible for the destructible elements in the game. Other people are in charge of the vegetation, others of the rural areas, others of the buildings, etc... We each have a specific task in the team, and we're all particularly skilled at specific tasks.
How do you create an environment from scratch? What kind of references do you use?
We start with reference images, on Google maps, with photos and videos found on the Internet ... And we create a base of reference images on which we can work. From there, we create, model, texture, etc., all the objects we need. Simple objects, parts of buildings, sidewalks... whatever you like. Then, once again, we use the reference images to position these elements as realistically as possible, since we're developing a game that is.
Yes, you're not going to put a dinosaur on a street corner!
Ah, we've tried (laughs)... during Tourist Trophy we tried with a giraffe that we put in a hot-air balloon. On WRC 6, we hid a cow on top of a building. You could hardly see it. We put giraffes and cows all over the place, and I think one or two of them stayed in the final game (laughs). You really can't see them, but we know. Today we're more serious, they're production stories that date back a long time, but it's fun to think about.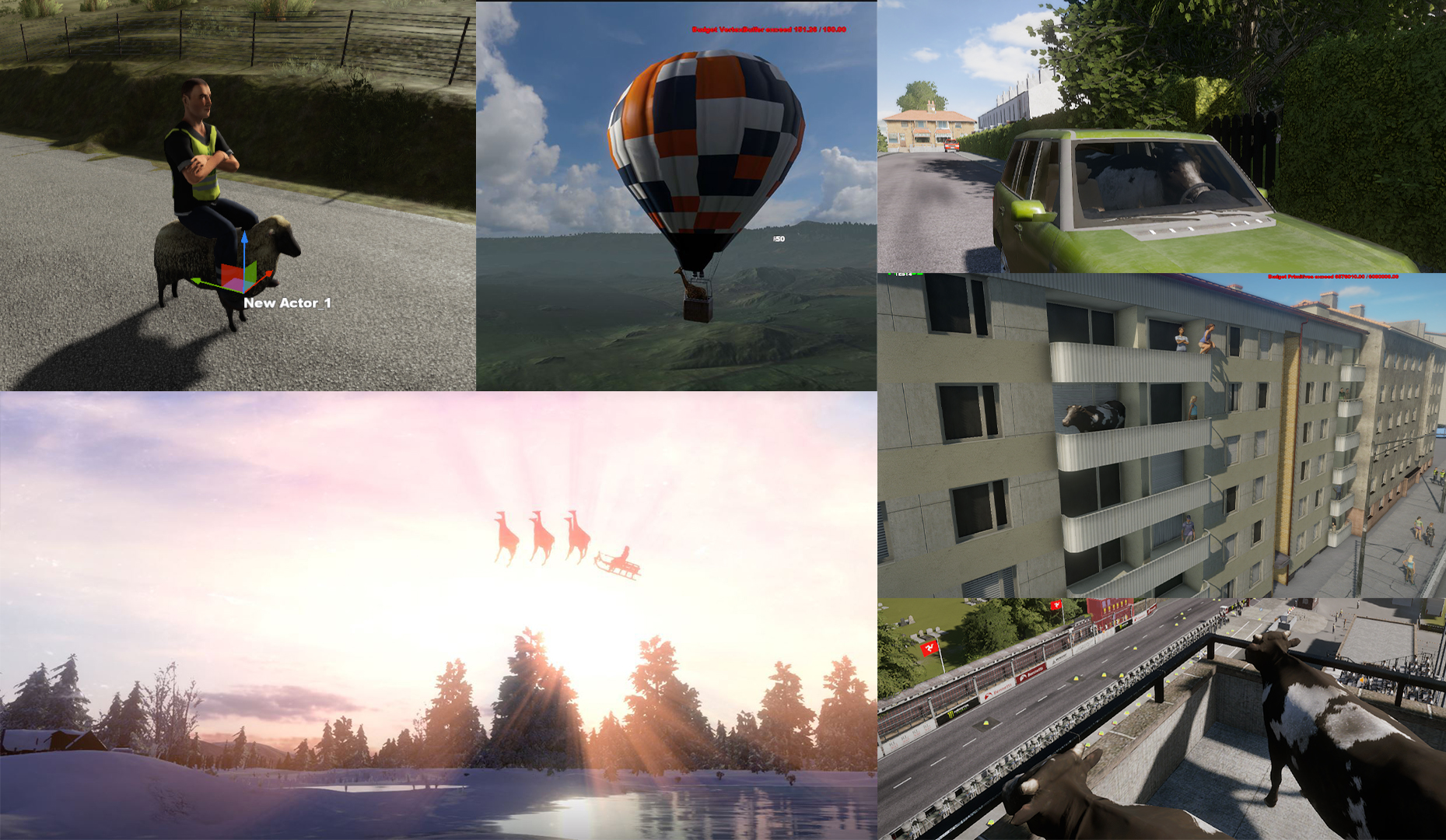 What do you like the most about your job?
Mainly the diversity of the missions! Each mission is different, each atmosphere, each region... Whether it's just dealing with problems like bugs, or creating a region from scratch, it's always a challenge. You have to produce the best of the best in the shortest possible time, within the constraints we all know about, the technical constraints associated with video games... It means you have to be very imaginative and creative all the time. The team-building aspect is great too. Working in a team means you can compare your work with that of others. Other people's ideas lead to new ideas, which creates a constructive competition that's really interesting in this type of job. You get to communicate, have a laugh and have fun while you're working, which is something I think is pretty rare in the working world! I'm lucky to be able to work in this environment, which is fairly closed and difficult to get into, but it's young and dynamic, so it's really enjoyable.
And then there's the rewarding side too. I tell myself that thousands of gamers are going to see my work, without knowing that it's me who did it, but potentially those thousands of gamers are going to say "ha it's really cool here, the game's pretty, I like this place!" and that makes me really happy. 
Tell us about your typical day?
We start with the traditional daily (editor's note: short meeting held every morning), where we talk about everyone's day. This also gives us a chance to do a little brainstorming in the morning. Then we get started! If we've been assigned an area, we work on it. We also get indications of various things that need to be improved or changed. And then we move on to our tasks, which are pretty well defined, so we know what we have to do. For example, if there's an empty spot on the map, we'll take our reference images, and we'll dress it up with various things, trees, asphalt and so on. There's a fine line between too much and too little, and that's the main difficulty! It's all about knowing the right balance to create something that's both beautiful and functional. 
Can you tell us about your background?
So it's a long and complicated story! I studied at the IIM in Paris, originally to become a project manager. I realised very quickly that it didn't interest me, so I ended up studying 3D by chance. When the time came to look for an internship, I was recommended by one of my teachers who works at Cyanide. I worked on Pro Cycling Manager 2010 and 2011. I was a gamer, but I thought I was training for animation, not video games originally. I was very lucky! I would have liked to have stayed longer, but there weren't any positions open for me.
Once I'd got my degree, I worked for a year on an independent project in partnership with a freelancer in Holland who taught me a lot about modeling techniques and so on.
One day I got a call from Mzone studio in Pornic in the Loire Atlantique region, and I went there for 2 and a half years, which was great. Unfortunately the company went bankrupt, the ups and downs of a company... So I moved to TT games in Manchester, I worked on the Lego Avengers and Jurassic Park games, I was a Lego artist. It was fun, but I wanted to go back to France. I also did a bit of serious gaming in Coventry before I came back to France, which was a very bad experience.
Then finally Kylotonn called me, and it's been nearly 8 years since then! 
What qualities do you consider essential for your job?  
Discipline, autonomy, seriousness, attention to detail... Knowing how to look at the environment around you, all the details, when you're walking down the street, you should never look at the ground! There's so much going on in the air, the architecture, the sculptures, the bas-reliefs and the marks of the past on the walls or porches of houses, it's really interesting. 
What is your favorite project to work on?
Tourist trophy! I really enjoyed working on it, the team was doing well, we had a lot of creative freedom in what we were doing, and there was a real chemistry that developed within the team, which was great fun. At the time, the VRally 4 team was almost envious of us (laughs).
Today we're more serious, which is a good thing all things considered, but the atmosphere is a bit different. 
The last word ?
"The tension actually hurts, you have to break it…say something... anything...Banana Hammock!"
Scrubs 
WRC is available from November 3 on PlayStation®4, PlayStation®5, Xbox One, Xbox Series X|S, Steam PC and on Nintendo Switch™.